Contact Us
Connect with us for inquiries about personalized gifts for readers. We're here to assist with Kindle Ebook Gift Cards so that you can offer a thoughtful gift to your loved ones.
How Can We Help?
Drop Us A Line
Customer Service Agents are responding to emails between 8am to 3pm (MST)
Create An Account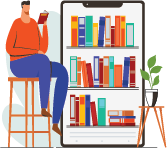 (Password length must be minimum 8 characters and maximum 20, and must contain at least one capital letter, number and punctuation mark.)
I already have an account. Login
Please upload the completed CSV spreadsheet file.
*Do NOT Close This Window Until Your File Is Uploaded
To make sure the correct book goes to the correct recipient, please download our CSV spreadsheet file.
Are You Sure You Want to Delete This Gift Card?
Apply This Address to All Gift Cards?